Presentation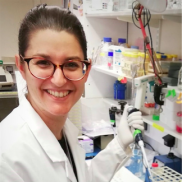 Contact
Send a message
Following a Master's degree in Immunology, Chloé becomes an engineer specialized in immunology and then in oncology.
In the Imagine Institute, she works on a multi-team project that study the relationship between immunity and mitochondrial functions in the field of immune or mitochondrial disorders.

Research: a scientific adventure
Our goal: to better understand genetic diseases to better treat them.