Presentation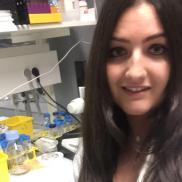 Contact
Send a message
After my master's degree in Biotherapy (University of Paris 13), I passed the BioSPC doctoral school competition, which currently allows me to do a PhD in this laboratory, under the direction of Nadège Bondurand. My project examines the role of RNA Editing and ADAR1 in the development of two main derivatives of the neural crest: Schwann cells (peripheral nervous system) and neurons and glial cells of enteric nervous system.

Research: a scientific adventure
Our goal: to better understand genetic diseases to better treat them.