Presentation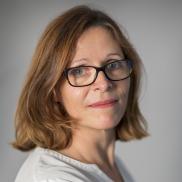 Contact
Isabelle Andre is a research director at INSERM and leads the research Human Lymphohematopoiesis laboratory at Imagine Institute.
Her main research focuses on the development of the human hematopoietic immune system, and cell therapy pre-clinical studies for inherited and acquired disease of the hematopoietic system. The research group she leads studies not only how to succeed hematopoietic stem cell transplantation in humans but also the differentiation of mouse and human stem cells towards lymphocyte lineages. She has identified key steps in the production of T cells, key players of immunity generated throughout the life of an individual within the thymus. This work led to the development of an artificial thymus, which will be tested in a clinical trial to reduce the immune deficiency period after bone marrow transplantation. Her team also identified new genes involved in severe forms of inherited immune deficiencies in children and demonstrated genotoxicity of anti-viral drugs, such as AZT, used to prevent transmission of HIV during pregnancy.
She is involved in several clinical trials that are based on the use of ex vivo gene modified hematopoietic stem cells to treat patients with inherited disorders. She is the author or co-author of several patents and of about 60 publications in peer-reviewed journals and was awarded with several national and European grants.